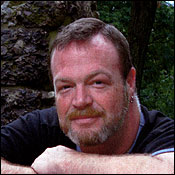 John Beresford was murdered yesterday as he tried to help a woman whose purse had been stolen. He was a wonderful, warm, sweet and caring man with many talents and a heart as big as the outdoors. He left his healing touch on many people, physically in his work as a massage therapist and emotionally as a man who made people feel good about themselves. I will miss him very much.
My heart goes out to Adam.

-----------------------------------------------

From the Boston Globe, through AP

Boston man fatally stabbed in confrontation with muggers

May 11, 2005

BOSTON -- A community activist was stabbed to death after he confronted two men he suspected of mugging a woman in a city park, police said.



John Beresford, 40, got a phone call from a friend on Tuesday evening, saying muggers had snatched the purse of a 58-year-old woman who was walking with Beresford's friend along a path in Ronan Park in the city's Dorchester neighborhood.

Beresford ran out of his nearby home to help. He confronted two men believed to be the muggers, and one of them plunged a knife into Beresford's chest. He was pronounced dead at a hospital a short time later.

Police had descriptions of the attackers but had made no arrests by early Wednesday afternoon, police spokesman John Boyle said.

Acquaintances said Beresford, a massage therapist, had helped tend to Ronan Park. He dressed up as Santa Claus during the holidays, using sign language to communicate with deaf children.

"John was a really good person who died trying to help somebody," said friend Bernie Provencal, 40, of Lexington.

Beresford had been scheduled to meet Wednesday at the park with Mayor Tom Menino, who planned to view efforts to trim trees and clear brush.

"That's outrageous what happened to that young man," Menino said.