NEB Monthly Calendar
17
May 2003, Saturday
---
Bear Thaw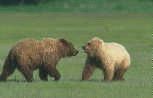 We are putting our Traveling Bar Night together with a few other activities to celebrate the end of Winter with our friends the Mainely Bears. Join us for hot-tubbing in the afternoon at Richmond Sauna (WE'LL HAVE THE PLACE TO OURSELVES FOR THE AFTERNOON), then to the Great Lost Bear in Portland for Dinner and finally a bar night at Blackstones in Portland. Sign up early so we know how many people to tell the hot tubs and restaurant to plan for! Click here to let us know you're coming!

---
NEB Traveling Bar Night
Location: Blackstones, 6 Pine St. Portland, ME

Wander all over New England with the NEB as we make ourselves visible all through the region, check for locations each month.